Band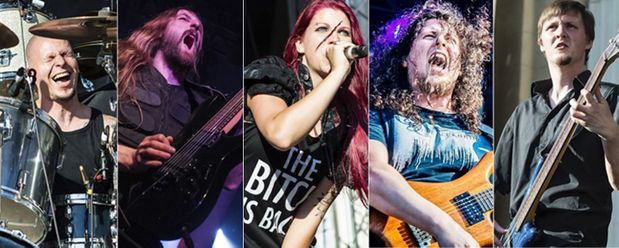 | | |
| --- | --- |
| J.J. |      Drums |
| Mashl J. |      Guitars, Backing Vocals |
| Liz Gorgeous |      Vocals |
| Just`In Sane |      Lead Guitars |
| Buzz'D Joe |      Bass |
| Jay`na D. |      Keyboards/Samples |
***english version below***
– "Spit out from hell I once came here" –
Einzigartiger aggressiver und gleichzeitig femininer Gesang verbunden mit technisch hochanspruchsvollem Songwriting ergeben eine explosive Mischung, die nicht nur auf Tonträger, sondern insbesondere live voll in den Arsch tritt.
Power gepaart mit 100%iger Bühnenpräsenz erschafft eine toxische Essenz, die vor jeder Bühne ein unheilschwangeres Brodeln hervorbringt, welchem sich kein Metalhead entziehen kann. Das Publikum als entscheidende Zutat dieser Synthese erzeugt eine supranaturale Reaktion, welche die Trennlinie zwischen Band und Publikum zum Schmelzen bringt.
– "Now it's time to stand up, now it's time to speak up" –
Der hohe Wiedererkennungswert der Dying Gorgeous Lies bleibt nicht lange im Verborgenen, im September 2013 nimmt MASSACRE RECORDS das Quintett unter Vertrag und veröffentlicht am 20. Februar 2015 das zweite Studioalbum "First World Breakdown". Durch ihre andauernde Präsenz auf den Bühnen der Republik und im europäischen Ausland sowie in den Medien macht die Band zudem europaweit Veranstalter und Booker auf sich aufmerksam. So wird DGL unter anderem als Vorband von EQUILIBRIUM, OVER KILL oder auch ARCH ENEMY gebucht und letztendlich nach ihrer ersten eigenen Westeuropa-Tour 2015 von Alpha Omega Management unter Vertrag genommen.
Dieser Weg setzt sich auch 2016 fort: DGL ist "official Support" für Bands wie DIRKSCHNEIDER (Deutschland Shows), TESTAMENT (Italien) oder auch SUICIDAL ANGELS (Estland, Lettland, Russland Shows). Des Weiteren teilen sie sich die Bühne mit Bands wie WITHIN TEMPTATION, KREATOR und POWERWOLF.
2017 beginnen die 5 Thrasher um Fronterin Liz Gorgeous mit einem absoluten Kracher! Im April/Mai gehen DGL zusammen mit TESTAMENT, SEPULTURA und PRONG auf Nordamerika Tour gehen und zeigen den amerikanischen und kanadischen Metalheads, was deutscher Thrash Metal zu bieten hat. 
-SPIT OUT FROM HELL I ONCE CAME HERE-
Unique, aggressive and at the same time feminine vocals combined with technically high ambitious songwriting produce an explosive mixture that is simply kicking ass – not only on record but especially live!
Power paired with 100% stage presence creates a toxic essence which generates an ominous seething in front of every stage that puts all metal heads under its spell. The audience as the crucial ingredient of this synthesis creates a supernatural reaction, which fuses the parting line
between band and audience.
-NOW IT'S TIME TO STAND UP, NOW IT'S TIME TO SPEAK UP-
The high recognition value of Dying Gorgeous Lies is unconcealable: in September 2013 MASSACRE RECORDS signed the quintet and released their second studio album "First World Breakdown" on February 20th, 2015.
The constant presence on the nationwide stages and in the media draws increasing attention from bookers and organizers. As a consequence DGL was booked as support for various renowned bands, e.g. EQUILIBRIUM, OVER KILL or ARCH ENEMY and was signed by Alpha Omega Management. In 2015 the band played their first Western European Tour.
This path continued in 2016: DGL is official support for bands like DIRKSCHNEIDER (Germany shows), TESTAMENT (Italy) or SUICIDAL ANGELS (Estonia, Latvia and Russia). Furthermore they share the stage with bands such as WITHIN TEMPTATION, KREATOR and POWERWOLF.  
The year 2017 starts with an extreme highlight for the 5 thrashers around vocalist Liz Gorgeous! In April/May DGL joins TESTAMENT, SEPULTURA and PRONG on their Northern America Tour and shows the American and Canadian metal heads what German metal is made of.